Submissions
Photographer, planner, or couple with a stylish vintage or handmade wedding to submit? We would love to show it! We are always looking for fabulous imagery and new ideas to feature. Glamour & Grace loves all things chic with vintage touches, handmade details, and phenomenal photography! We also feature unique or vintage engagement sessions, bridal shoots or boudoir.
Ready to submit? Please send 75-100 images (30-40 for engagement or bridal shoots)  at 700 px wide with a description and list of vendors with website links to glamour.grace[at]gmail.com
Be aware that for all Real Wedding features, I email the bride and groom to get their perspective on the day. If your couple is not up to writing a few short paragraphs, please reconsider your submission.
Glamour & Grace is an exclusive publication. Please let me know if your submission has been featured or submitted anywhere else, as I strive to feature original content. After featuring on Glamour & Grace, you can resubmit to another publication after a 6 month period. All weddings must have occurred within the last year.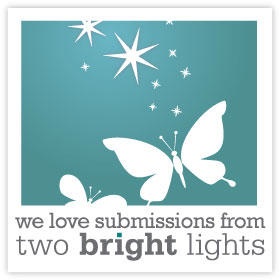 Submit to Glamour and Grace through Two Bright Lights!
The easiest way to streamline your submission process and get notice of editors quicker is to submit through Two Bright Lights!
*If I feel that your submission may not be suitable for Glamour & Grace, I reserve the right to say no. Please don't be offended as it might not be what I'm looking for currently.
Have you been featured on Glamour & Grace? Feel free to grab this badge and link back to your feature!